12th Grade Resources
Two Parts of a College Application
All college applications have two parts: the Student-Completed Portions and the School-Completed Portions. The exact contents of these portions vary, so your applications may or may not include all of the items listed below. For actual instructions on how to make sure these items are submitted to your colleges, please see the "How to Apply" tab.
Student Portion

Online Application
Essay
Writing Supplement
Resume
Other Supplement (i.e. Portfolios)
Test Scores
School Portion
Note: the school portion of the application still requires the student to complete certain tasks.
School Profile
Transcript
Teacher Recommendation Letters
Counselor Recommendation Letter
Secondary School Report
Early Action, Regular Decision, or Early Decision?

Many schools offer more than one application deadline. It is recommended that CMIT students apply by the early deadline for ALL of their colleges. Many schools have higher acceptance rates for their early deadline and hold less spots and less scholarship money for students who apply later. Applying early also usually means getting a decision early, which can help in making decisions and applying for scholarship funding to close any gaps in financial need.
There is an important distinction to make regarding the early deadline, however. Early Decision (ED) applications are binding and can only be done for one school. A student who gets accepted to a school they applied to as an ED applicant is legally required to attend that college. Early Action (EA) means applying early, but is not binding. Students who apply EA get their admissions decision early, but do not have to make a commitment to attend until National Decision Day on May 1st. Early Action is what CMIT counselors recommend for students.
Applying early often means competing with fewer applicants and increasing not only chances of acceptance, but also sometimes means consideration for specialized programs and the potential to receive better financial aid / scholarship packages. As an example, the University of Maryland has a November 1st Early Action deadline, from which they take 90% of their incoming class. It is also the deadline they use to choose students for Honors, Scholars, and living-learning programs.
For more information, please read: https://professionals.collegeboard.org/guidance/applications/early
How to Conduct an Effective College Search
Think about your priorities for what you want in a college before you begin using a resource like CollegeBoard Big Futures. Do you care about:
– Size of School Population?
– Location / Distance from Home?
– Cost of Attendance?
– Athletics?
– Class Sizes?
– Diversity?
– Specific Extracurriculars?
– Majors and Minors of Interest?
– Selectivity?
– Percent of Financial Need Met?
Search for colleges using the things that matter most to you. You may want certain things, but if they're not a deal breaker, make sure you don't cancel out colleges that have most of what you're looking for.
Note: One thing that should definitely matter to you is whether they offer one or more majors you are interested in. It would be a waste to go to a school only to find out that they don't offer what you want to study. This would mean either transferring schools or settling for a major you didn't want.
Aim for 15-30 colleges INITIALLY. If you end up with more than 20 colleges in your results, add more factors or play around with the level of importance of certain factors. If you get fewer than 15, you may be being too picky.
Narrow down to a strategic list. At CMIT, we want our seniors applying to a minimum of 4 colleges, but don't recommend applying to more than 10. Application fees are expensive and applying to too many schools makes the decision making quite a challenge.
– 1-2 Safety Schools: schools that have a higher acceptance rate or have a middle 50% SAT/ACT/GPA that is below yours
– 3-4 Target Schools: schools that have an average to high-average acceptance rate or have a middle 50% SAT/ACT/GPA that is right around what yours are
– 1-2 Reach Schools: schools that have a lower acceptance rate or have a middle 50% SAT/ACT/GPA that is a bit higher than what you have
Once you get your CollegeBoard Big Futures list, go to College Greenlight. Read more about each college and compare them to others from your list. What is the "fit" percentage for each school? If it's below 80%, you may not be happy there. What is your "chance of admission?" This will help you determine if this school is a safety, target, or reach school. What is the average amount of financial aid given? This will help you determine if you'll be able to afford going to that school or if you'll need to apply for a lot of outside scholarships.
Visit schools when you can. Sometimes a college looks really good on their website, but when you visit the school, you realize it's not what you thought it was. Maybe the food isn't so great or the campus is a lot bigger than you had seen online. Maybe the students aren't friendly or the weather isn't what you would want to live in for four years. Maybe the residence halls looked bigger online, but then you find out that the freshman dorms are way smaller or don't have air conditioning. These are things that you want to see in person and can really help you determine if a school feels right.
CollegeBoard Big Futures:
– Use to start researching colleges
College Greenlight:
– Use to see if the school is a good fit based on what you are looking for
– See how likely you are to get accepted based on test scores and GPA
– Find other colleges that are similar and compare them to each other easily
College Rep Visits and Profiles
CMIT North High School Virtual Visits Calendar
Students can access the calendar here using their CMIT email accounts.
Two Parts of an Application
School Portion
Note: the school portion of the application still requires the student to complete certain tasks.
1. School Profile/Secondary School Report
2. Transcript
3. Teacher Recommendation Letters
4. Counselor Recommendation Letter
Student Portion

5. Online Application
6. Essay
7. Resume
8. Test Scores
9. Other Possible Sections: Writing Supplement, Portfolios, etc.
Breakdown of Every Application Component
1. School Profile/Secondary School Report

The "School Profile" is something that your counselor will upload and send through Naviance. It will be sent to all of your colleges through Naviance eDocs and will be included in all mailers as well. This document gives colleges an understanding of the policies and procedures of our school as well as the context of our academic offerings, which will be used to understand our school in comparison to other schools.
The "Secondary School Profile" is also something that is completed for all college applications and sent through Naviance. This document gives a college context about the student within the context of our school and their peers. This document asks questions about the rigor of your curriculum in comparison to your peers as well as your overall recommendation level.
2. Transcript
To request a transcript for College Applications, you must complete the College/Scholarship Materials Request Form on Google Forms.

The Google Form must be submitted at least 3 school days ahead of your deadline for electronic submissions and at least 3 school days ahead of your mailer pick-up request date for mailer submissions.
Make sure all of your service hours are in by October 10th, which is when your counselor will download the transcripts to be sent to colleges through Naviance eDocs or to be included in your mailers
3. Teacher Recommendation Letters
Most schools required 2-3 letters from teachers. Letters are sent in the order that teachers upload your letters, so you do not get to choose which letters go where. Make sure that you only request letters from teachers you know will write you a strong letter.
Only send a request to your teachers through Naviance AFTER they have confirmed via email that they will write your letter for you.
If a teacher says NO, you need to ask another teacher to ensure you have at least 2 letters ready to go.
It is recommended that you give an upload deadline of October 15 so that your letters are ready to be sent electronically as well as being printed for mailer submissions.
Teacher recommendations will be sent by your Counselor through Naviance or downloaded from Naviance to include in Mailers. However, this is ONLY for College Applications. **For scholarships, students must go directly to the teacher for these requests.
4. Counselor Recommendation Letter
Complete the Counselor Recommendation Form
Each response should be 3-4 sentences so that your counselor can write you a strong letter. The shorter your responses, the more incomplete your letter will be!
5. Online Application
There are a few steps to beginning your applications. First is to add your colleges to the "Colleges I'm Applying To" section of Naviance.
The next step is to determine each college's delivery type: CommonApp, Electronic, Mailer, or Other. Please use the following chart to determine which delivery types your colleges use. The most important to know is whether your colleges require MAIL (the last symbol) – as this requires advance notice when applying.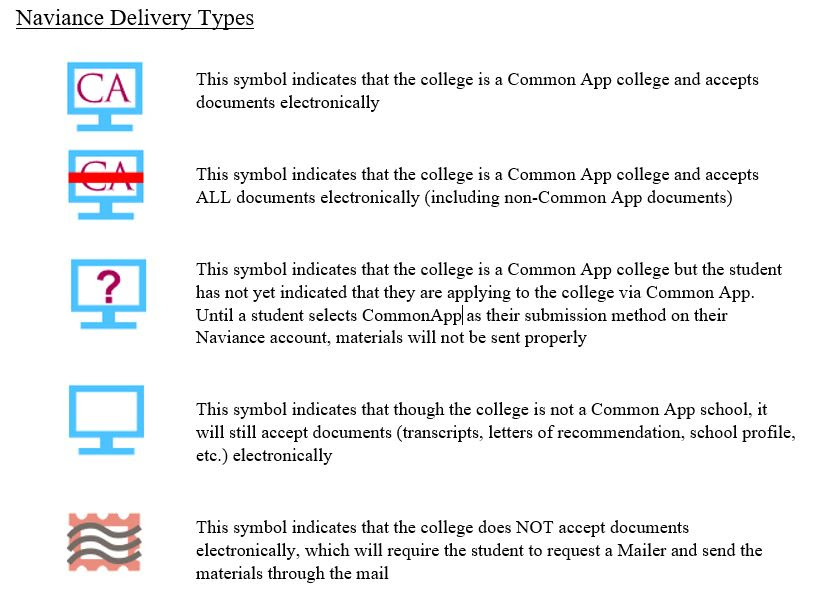 If your college uses CommonApp, make sure to set up that account and match your CommonApp and Naviance accounts. You cannot match your Coalition or Common Black College Application accounts to Naviance.
IMPORTANT NOTE ABOUT MATCHING ACCOUNTS: You must waive your right to view your documents when you sign your FERPA Waiver. If you choose not to do that, you cannot use Naviance and most teachers/counselors will not write letters for you at all!
Note: CommonApp accounts cannot be set up until after August 1st, which is when CommonApp rolls over from the previous school year.
If a college is not on CommonApp, check to see if they are on Coalition or Common Black College Application. Using these platforms saves you a lot of time! If a college is not on any of these platforms, you will need to apply directly on their website.
Students must SUBMIT their application before requesting materials from their counselor to be sent (letters of recommendation from counselor/teachers, transcripts, etc.). This is because colleges often delete materials that they receive before a student's application!
6. Essay
There is so much to say about this topic, so please see the College Essays page.
Some general notes: Avoid Contractions. Show, don't tell. Don't spend too long on the "what on the essay" – spend more time on who you are and how you've grown. The cherry on top of any essay is "why this will make me a successful college student" as a conclusion.
7. Resume
Please see the Resume tab, here!
Some general notes: Balance your resume between text and white space on the page. Your name should be the biggest thing on your resume. You should include a professional email address (typically your first and last name) and contact phone number. Emphasize the outcomes of your work. You do not need an objective or to list references. If you couldn't talk about something to an interviewer, you shouldn't include it on your resume.
8. Test Scores
Your counselor cannot send your test scores to colleges. The student must send their SAT/ACT scores directly to their school. Allow for at least two weeks for official score reports to get to your colleges.
If you requested that scores be sent through the few free requests each time you test, you should check-in with colleges to verify that they received your scores. You may not need to pay to send an additional report, but if they don't arrive, your application will be considered incomplete, so it's up to you to make sure they were received!
Again, CMIT DOES NOT SEND TEST SCORES.

Note about Test Optional: If a school is test optional and you DO NOT feel your test scores are representative of your abilities, don't send your scores! If your scores are above the college's average, send them! Note: if you are applying test optional, make sure to confirm with admissions that this does NOT affect your financial aid considerations.
9. Other Possible Sections: Writing Supplement, Portfolios, etc
Some colleges will request additional items such as writing supplements, portfolios, etc. Students are responsible for getting all of the information about these items and sending them to ensure that their applications are complete.
Almost all colleges and universities require a personal statement or college essay. Writing a strong essay that conveys something unique about you can sometimes be a challenge, but it is often this component of a student's application that can make the difference between being on the edge and getting an actual acceptance. The essay (and short answer questions) are the only part of a student application that allows admissions counselors to hear from the applicant themselves. This is the time to shine. It's your chance to set yourself apart from other applicants and to provide information to the university that you can't relay through a transcript or resume.
Here are some great resources that may help you write that winning essay:
From CBS News, "Ten Topics to Avoid in a College Admission Essay":
http://www.cbsnews.com/8301-505145_162-57589271/
From Johns Hopkins, "Essays that Worked":
https://apply.jhu.edu/application-process/essays-that-worked/
A Blog by Huffington Post, "College Application Essays"
https://www.huffingtonpost.com/topic/college-application-essays
From USA Today, "9 Essay Writing Tips to Wow College Admissions Officers"
http://college.usatoday.com/2014/10/23/9-essay-writing-tips-to-wow-college-admissions-officers/
Some great advice from Kurt Vonnegut's "How to Write with Style":
– Find a subject you care about
– Do not ramble, though
– Keep it simple
– Have guts to cut
– Sound like yourself
– Say what you mean
– Pity the readers
Click HERE for the full version of "How to Write with Style" by Kurt Vonnegut.
What did your English Department have to say?
Mr. Hommel: "Avoid contractions and second person point of view. They should also focus on "showing," rather than telling, with descriptive writing that incorporates the senses."
Ms. Mitchell: "College Essay writing should be objective. The first-person point of view is usually not acceptable. Students should use tools like Grammarly and spell check before they turn in a paper. All papers must be double spaced, size 12 font, and the default font should always be Times New Roman, unless otherwise specified. Students should never be vague or assume that the reader is knowledgeable about the topic. Therefore, examples should be used to further clarify what the writer is trying to convey."
What do Admissions Counselors think? Ms. Gaudette asked local Admissions Counselors what they look for in Admissions Essays:
An admissions counselor from Villanova said: "When I read an essay, there are two things I'm trying to assess. Number one should go without saying – your ability to write. Do you know your grammar rules? Can you spell? Can you organize your sentences and paragraphs into an order that makes sense? The second thing is what you say about yourself – your story. Ultimately, we should be able to see how your story will fit into and add to Villanova's story."
An admissions counselor from The George Washington University said: "My favorite essays to read are ones written by students who are clearly passionate about the topic. You don't have to write an essay that tells a sob story or a redemption moment. Instead, tell us about something you love – music, hobbies, family, sports, a club, a project you worked on – anything that you feel is important to you. Tell your story about what you love, why, and how that affects the way you see yourself, your schoolwork, and the world. Your voice will shine through because it's a story you enjoy telling."
Admissions counselors at the Catholic University of America shared: "On the technical side, we look to see that students have fully answered the prompt and used correct spelling and punctuation. We also look to see that they thoughtfully answered the question and used details so as not to seem like a form of essay. There's no right or wrong answer that we're looking for – more so that they fully completed it."
The Admissions Counselor from The University of Maryland said: "The best advice I can give for writing a college essay is to write about something you're passionate about and to help your personality shine through your words. The essay is the only portion of the application where admission counselors will get to "hear the student's voice." Therefore, it is important for students to effectively show parts of themselves that cannot be gleaned through other parts of the application."
The Assistant Director for Admission and Student Life at Seattle University School of Law said: "The strongest personal statements show the reader you are ready for success in college. The reader should finish the application with a sense of who you are, the experiences you have had while in high school, what you learned from those experiences, and hopefully how those experiences are going to help you be successful in college."
Planning to Use the CommonApp? The 2020-2021 Essay Prompts have been released! See this website for more information!
The Class of 2022, made up of 158 students, were accepted to over 115 postsecondary institutions across the country, with an average of 6 applications per college-going senior. As a senior class, they earned over $16.6 million in 4-year scholarship awards, with an average 4-year award of $46,503.
* indicates that this was a college/university that one of our Class of 2022 seniors is currently attending
Alabama A&M State University
Alvernia University
American University
Anne Arundel Community College*
Averett University
Benedict College
Bentley University
Berklee College of Music*
Bowie State University*
Brewton-Parker College
Capitol Technology University*
Catholic University of America
Chestnut Hill College
Claflin University
Clark Atlanta University
Clarkson University
Clemson University
Columbia College of Chicago
Coppin State University*
Cornell College
Delaware State University
Drexel University
Elizabeth City State University
Emerson College
Fisk University
Florida A&M University
Florida Institute of Technology
Frostburg State University
Gannon University
Garrett College*
George Mason University*
George Washington University*
Georgia Southern University
Hampton University
Harris-Stowe State University
Harrisburg University of Science and Technology
Hawaii Pacific University*
High Point University
Hofstra University
Hood College
Howard Community College*
Howard University
Johnson C. Smith University
Kean University
Kutztown University of Pennsylvania
Lincoln University of