We are thrilled to report that CMIT Academy North High School has reached exceptional heights in academic excellence. With an astounding 100 percent graduation rate, the school has demonstrated its commitment to fostering a supportive and thriving learning environment.
But that's not all – the achievements continue to pour in. The students of CMIT Academy North High School have collectively amassed over $18 million in scholarships, a testament to their hard work, dedication, and outstanding academic achievements. These scholarships open up doors to higher education and promising futures for these exceptional young minds.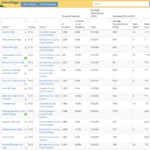 Furthermore, the school has secured a prestigious position in the state's educational landscape, ranking an impressive 11th out of 225 high schools (SchoolDigger) in 2021-2022. This remarkable achievement showcases the school's dedication to providing a top-notch education and preparing students for successful futures.
CMIT Academy North High School has undoubtedly set an inspiring example for other schools, highlighting the transformative power of education. The entire community is proud to celebrate these extraordinary accomplishments, and we extend our heartfelt congratulations to the exceptional students and educators who have made this remarkable success possible.